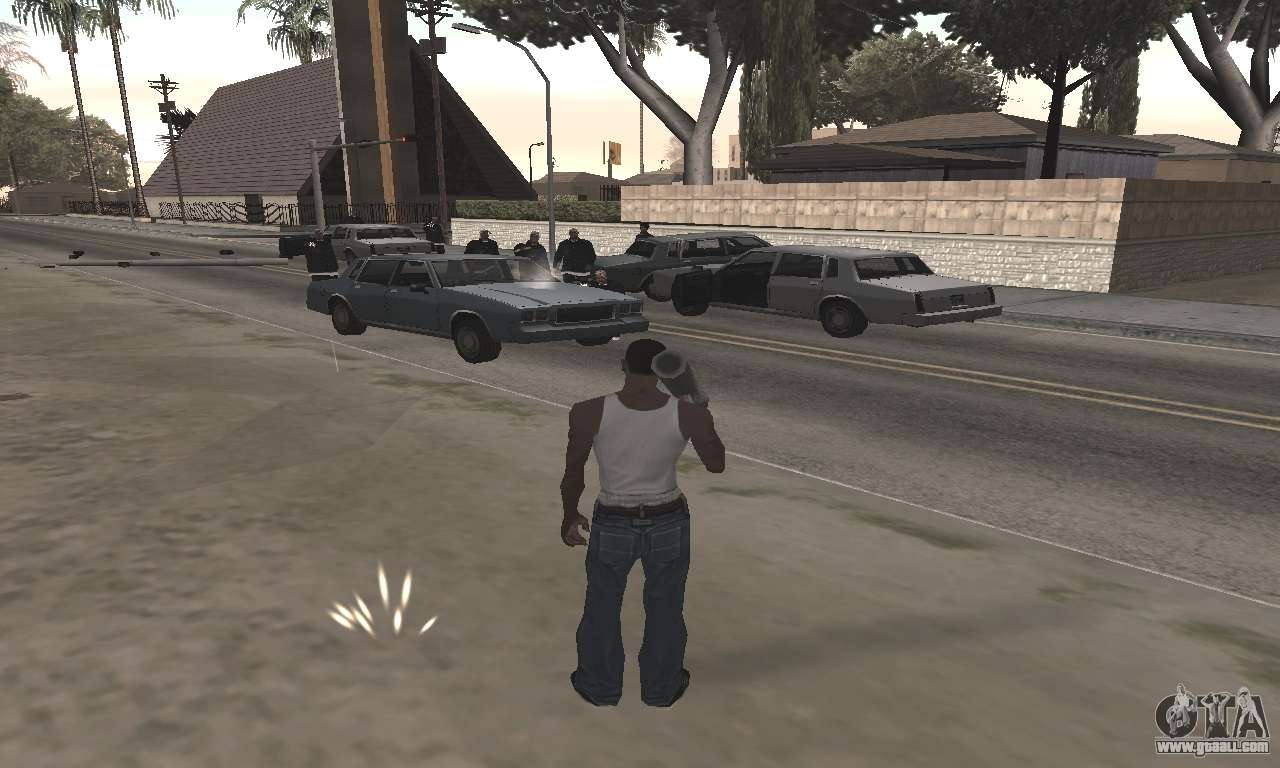 GTA San Andreas DLLoader 1.0.1 Mod was downloaded 6352 times and it has 9.90 of 10 points so far. Download it now for GTA San Andreas!
There are 6 primary versions of San Andreas on the PC.
List of versions
San Andreas v1.00
This is the first version of the game that shipped in 2005. It contains a variety of bugs, and requires the disc to run.
San Andreas v1.01
Version 1.01 is the only official 'patch' released for the PC version of the game, and will only patch an original, unmodified version 1.00 executable. This patch contains a number of bug fixes and additions. According to Rockstar Games these are:
ADDITIONS
Added support for 720p and 1080i HDTV resolutions.
Version Number displayed on game title screen.
BUGS FIXED
Issue fixed on machines where the OS has been updated (one OS installed over top of another) and has 2 registry keys that point to the users 'My Documents' folder (we incorrectly used to assume the Win2000 folder, now correctly uses the last installed OS folder) - users know this as 'user account period bug'.
Crash when entering advanced display options with only 32 meg of video ram (32 meg of video ram is not supported and will only allow use of 640*480 in 16 and 32 bit. At this resolution it is likely you will see the 'Black Roads' LOD problem). We do NOT however disallow machines with 32 meg of video ram from running GRAND THEFT AUTO: San Andreas.
Crash when entering advanced display options on a dual monitor machine after :- starting game on primary monitor in maximum resolution, exiting, starting again in maximum resolution on secondary monitor. Secondary monitor maximum resolution had to be greater than maximum resolution of primary monitor.
Destroyed cars now are correct colour.
Dirty cars now able to get clean.
Numpad 5 key is now mappable when re-defining controls.
Issue on all machines where certain collisions caused parts of the audio system to crash (sound effects, cutscene audio - only radio keeps going) - users know this as 'Rain / Thunderstorm bug'.
Improvements to DVD streaming.
Audio problems in interior / exterior transitions and getting in / out of cars fixed.
Some fixes to ensure reverb is not present at certain save points.
Improvements to dance game timings.
Crash occuring when using 'user radio files' while the frame limiter is disabled.
San Andreas v2.0
Version 2 has the same bug fixes and additions that were introduced in the 1.01 patch. It also checks the size of the 'gta3.img' file, which causes the game to crash if the size is not equal to a predetermined (hardcoded) size. Save files created with a version 1.0 or 1.01 game are not compatible with a 2.00 or later game.
San Andreas v3.0
Interestingly, the original Steam release, marked as version 3.0, is not based on 1.01 nor 2.0 versions, and therefore does not contain most of 1.01 fixes. Instead, it seems to be based on Xbox version of the game and therefore contains Xbox-specific UI changes, such as smaller subtitles, smaller radio station name and different save menu screen, similar to the ones from console versions.
Gta San Andreas Version 1.01
San Andreas newsteam r1
In November 7th 2014, Rockstar updated the Steam version, addressing music licensing issues and therefore removing several songs from the game. Additionally, this version of the game game does not support DirectInput pads, and it's been migrated to XInput instead. 5:4 resolutions are also now blacklisted. This version does not have any version number displayed in menus, and therefore has been dubbed newsteam (later newsteam r1) by the community.
San Andreas newsteam r2
In December 9th 2014, Rockstar updated the Steam version again. The only change included in this version are unlocked 16:9 resolutions. This version does not have any version number displayed in menus, and therefore has been dubbed newsteam r2 by the community.
How to tell what version you have
Gta San Andreas 1.0 Download
Versions 1.0 and newsteam are 'unmarked' versions of the game. From the 1.01 patch onward, the version number is displayed on the lower right corner of the main menu when you first start the game. The retail versions of the game have 'Second Edition' printed along the bottom of the front side of the box.
Tools
See also
External links
Grand Theft Auto: San Andreas
File Formats
.b • .col • .cfg • .cut • .dff • .dat • .fxp • .gxt • .ide • .ifp • .img • .ipl • nodes*.dat • .ped • .rep • .rrr • .scm • .set • .txd
Documentation
Audio • Cryptography • Cutscenes • Game memory • Handling.cfg • Map Listing • Mission Packs • Instructions • Paths • Replays • Saves • Scripts • Sound Effects • Statistics • Vehicles • Wanted levels
Tools
CLEO • Collision File Editor II • ENBSeries • G-Tools • IMG Tool • Limit Adjuster • Map Editor • Mod Loader • San Andreas Audio Toolkit • Sanny Builder • TXD Workshop • Magic.TXD
Tutorials
San Andreas v2.0 Modding • How to create a mission • How to create a script • How to use Map Editor • Vehicle Mod Installation
Modifications
Design Your Own Mission • Gostown Paradise • GTA: United • Myriad Islands
Multiplayer
gtaTournament • Multi Theft Auto • San Andreas Multiplayer • (more...)
Useful links

Community Portal • Discussion Forums • Modding Forums • Mods on GTAGarage.com • Mobile Modding • Opcodes Database
Retrieved from 'https://gtamods.com/mediawiki/index.php?title=San_Andreas_Versions&oldid=15898'