2 Methods to Bypass FRP Google Pixel 4,3,2 XL (Android 11,10) FRP Remove All Nokia Android eleven Bypass FRP Without PC; Google account manager Pie 9.0. Google account manager 6.0 1 android 6.0 apk download APK Extraction is a free Android application used to extract APKs from your phone and copy them to your SD card. You can also use it to extract system and file applications. An APK is an application package for Android phones; contains the application and programs needed to install an APK app on Android phones. See full list on neesrom.com. Google Account Manager Marshmallow APK 6.0, 6.0.1 API 23 is an Android application which helps the user to access Google API like Gmail, play store, play services, account manager, and also FRP locks. Download APK 6.0.1 for free.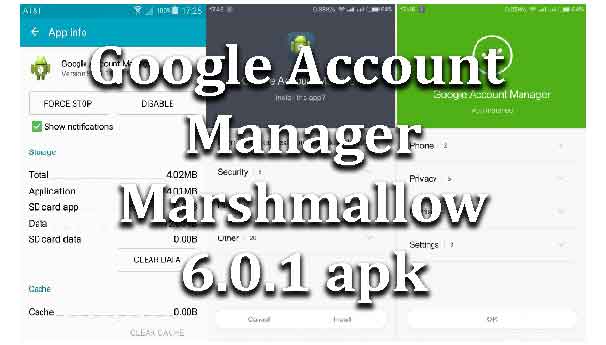 Google Account Manager APK for Android Marshmallow 6.0.1, 6.0, 6.1
This APK is the key to remove Factory Reset Protection (FRP) from any android device. No matter what is the variant or company of the device, it works for all the Android based Smartphones, Tablets, Pixel, Phone by Google, Nexus, Motorola, LG, HTC, HTC Bolt, LG, Samsung Galaxy, Sony Xperia, Moto, Huawei, Alcatel and other android based devices.
In a case, if you are struggling with a locked FRP device or you're locked by a previous submitted Google Account into your device. The Google Account Manager APK Marshmallow 6.0.1, 6.0, 6.1will help to remove the previous synced Google Account and also get a way to add an other Google Account. Which is your own Google Account (Gmail ID and Password) to the device.
All FRP Tools:
Samsung FRP Unlock Tools Download [3 Best Tools]
Works quite nicely and give a new life to a dead FRP locked smartphone. Lots of users face this disaster when they hard reset their cell phone and after they get nothing but a Factory Reset Protection locked device.
Google Account Manager 6.0.1 Apk Download For Android Download
FRP BYPASS FREE METHODS FOR ALL ANDROID DEVICES:
| | | |
| --- | --- | --- |
| SAMSUNG GALAXY | HUAWEI | LG |
| OPPO | XIAOMI | SONY XPERIA |
| ALCATEL | QMOBILE | HTC |
| LENOVO | MOTOROLA | BQ PHONE |
| FRP BYPASS APK | FRP UNLOCK TOOLS | BYPASS GOOGLE ACCOUNT |
There are still many ways to bypass Google Account from Android Devices. Helpful and very easy step by step guides you can follow by searching on the search bar of this website.
Google Account Manager has different versions and it has many functions, if a person is using android device with version of Marshmallow 6.0.1, 6.0, 6.1 then to remove FRP lock or bypass google account verification from the device. The phone requires the same Google Account Manager as its based on the version of the Android Device.
Basic Errors found by users in their Android Marshmallow 6.0.1, 6.0, 6.1 Devices:
This device is locked because of an abnormal Factory Reset Bypass FRP Samsung s7 edge bypass google, phone verification, all Samsung cell phone
Google Account Manager APK for Android Marshmallow 6.0.1, 6.0, 6.1
Description
Google Account Manager APK for Android Marshmallow 6.0.1, 6.0, 6.1 download latest version. Remove FRP bypass google account to use this application 2017.
Author